Every so often, a film comes along with a sartorial style that blows us out of the water. We all recognise Marilyn Monroe's billowing white dress and Audrey Hepburn's infamous Breakfast at Tiffany's look, but what about the films where every costume has made its mark on real life fashion? Here we bring you our top five films that have had an overwhelming influence on our clothing choices.


Annie Hall
Diane Keaton will always be inseparable from her role as the title character in Woody Allen's
Annie Hall
, with oversized shirts, men's waistcoats and quirky bowler hats all becoming instant fashion hits as a result of the film. Her effortlessly androgynous look is still emulated today, with mannish brogues and peg-leg trousers a staple in many women's wardrobes.
It might not instantly spring to mind, but French classic
A Bout de Soufflé
(Breathless) has influenced fashion more than you'd ever think. Breton stripes? Ballerina flats? Pixie Crops? They all started here. Jean Seberg's laid back Parisian style is the ultimate in casual chic. There was no costume designer on the set of the 1960 film and instead director Jean-Luc Godard suggested the stars dressed however they thought apt for their characters.
The ultimate in feel-good musical films, the costumes in
Grease
will be forever remembered, from the slick leather
jackets
to the bouncy poodle skirts. Olivia Newton John's evolution from good girl to bad is one of cinema's most iconic transformations. Her character's innocent 1950s style with her full skirts and prim sweaters paved the way to a killer makeover in the final scene – where she was infamously sewn into her skin-tight black catsuit.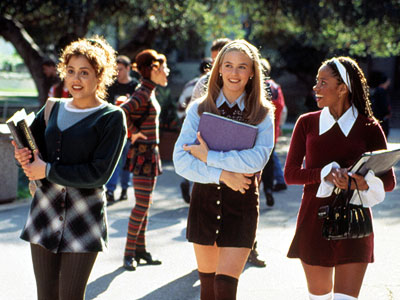 If you're looking for a snapshot of outrageous '90s fashion then
Clueless
is the one for you. The film has become fashion royalty since its 1995 release, when knee high socks, plaid mini-skirts and tiny backpacks were emulated by girls the world over. Cher's misinformed innocence stole our hearts with her mix of bright colours and textures. Recreate her look with the likes of
United Colours of Benetton
, as featured on Miinto.
Awash in a sea of crochet, paisley and headbands, the characters of
Almost Famous
have us aching for the hedonistic pleasures of days gone by with their look of
romanticism
. Their '70s rocker lifestyles are shown through their 'just thrown on' style, made up from classic denims and worn out suede. Making her entrance in an Afghan trimmed jacket and a lace crop top, character Penny Lane is the epitome of the film's look. What more do you need besides a pair of sunglasses when your life is already this cool?